Swan Conservation Trust is a nonprofit 50l( c )3 land trust organization, established in 1992, to preserve, protect and restore native hardwood forests and scenic natural areas, biodiversity, wildlife habitat, and water quality on the Western Highland Rim of Tennessee.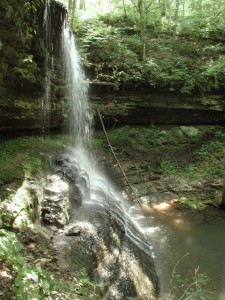 We accomplish this mission by purchasing and owning significant tracts, cooperatively managing land with other agencies or landowners, and holding conservation easements.
The Western Highland Rim of Tennessee has a history of being important economically for its abundance of hardwood forests. However, with increasing mechanization and capability in the logging industry, coupled with the rising demand for pulp and paper products in both domestic and foreign markets, it is questionable if the rate of forest harvest in this region is sustainable.
Forests provide significant habitat for disappearing species of animals and plants, whose homes are lost to development and changes in the natural landscape. Forests are also important for the contribution they make in regulating the composition of earth's atmosphere.
Scientists now believe that rapid deforestation in many parts of the world is at least partially responsible for the apparent climate changes we are experiencing and is a contributing factor to global warming.
Forested headwater streams contribute to pristine water quality. Swan Trust's initial efforts are focused on a 10,000-acre forest containing the headwaters of Big Swan Creek and Big Bigby Creek in Lewis County. Not only is this a very scenic area with waterfalls, seeps, and springs, but it also provides deep forest habitat for neotropical migratory birds. Springs in the headwaters of Big Bigby are a major water supply source for Mt. Pleasant, Tennessee.