Langford Branch is a major tributary of Big Swan Creek in Lewis County. A 23-acre State Natural Area alongside Langford Branch and Highway 412 protects a special seep habitat that is home to the federally endangered Tennessee Yellow-eyed Grass, (Xyris tennesseensis).
This rare plant has only been found in Tennessee in the seeps of Lewis County. Swan Trust is pleased to steward this property that protects the seep and its population of Xyris.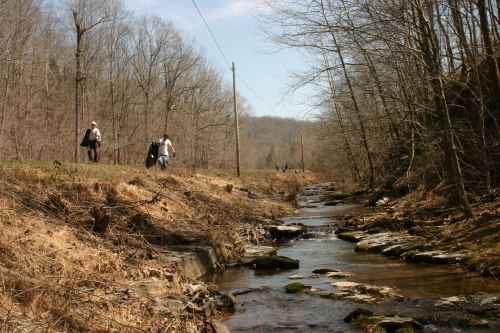 Swan Trust volunteers took advantage of a beautiful, early spring day
to beat the bushes, scour the grassy roadsides, and scavenge in the ditches for litter.
The property was purchased by the Nature Conservancy and donated to Swan Conservation Trust in 2002. Swan Trust has given the State of Tennessee a conservation easement on the natural area in a joint partnership for its mangement.
With portions of the property and creek running adjacent to a busy highway, the area is plagued with litter. Swan Trust sponsors regular clean up campaigns to bag trash and preserve the integrity of the stream.