The Cunningham Tract
Land bordering Big Swan Headwaters Preserve was threatened in 2006 when a paramilitary group attempted to establish a weapons training facility on the property. When this fell through, the land went up for auction, and although Swan Trust won the bid on the tracts adjoining us, the auction as whole failed.
In September of 2007, after several months of negotiation, Swan Trust entered into a contract to purchase 125 acres, including a wetlands area known as "Green Pond."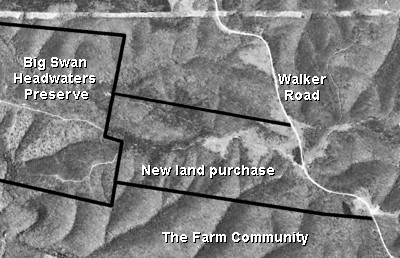 The property is of vital importance to Swan Trust, specifically because it includes an "improved" road which will serve as a direct entrance into Big Swan Headwaters Preserve.
In addition to protecting the land from unwanted traffic through our ownership, the entry can also serve as a focal point for the development of trails facilitating public use.
In partnership with Swan Trust, about fifty acres of the total were purchased by John and Mindy Anderson of Nashville, TN, and Will Bates of Summertown, TN.
An additional several hundred acres of undeveloped property contained in the Cunningham tract remain on the market.
Much of this land has been logged in recent years, but the tract directly adjoining the Trust on the north border of the new land purchase remains in standing timber.
This is an excellent opportunity for conservation buyers to acquire property adjacent to the Big Swan Headwaters preserve for use as home sites and country cabins.