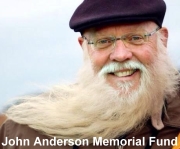 John and Mindy were more than loyal friends of Swan Trust. They jumped in whole heartedly (as if they could be any other way), welcoming us into their home on multiple occasions to host Swan Trust's most successful fund raisers.
John loved the woods, the creeks, the land. We spent wonderful hours together hiking on the land of Big Swan Headwaters Preserve. Several years ago John and Mindy helped Swan Trust purchase land to acquire an important road access into the Preserve and had hoped one day to build a cabin there.
John and Mindy remained monthly pledgers to Swan Trust even after they moved to California to be closer to their children. It was sad to see them move west, but one had to be happy for them, to be closer to family.
It is hard to lose someone as sweet, joyful and radiant as John, a light that continues to shine on everyone lucky enough to know this man. Douglas Stevenson, Swan Trustee .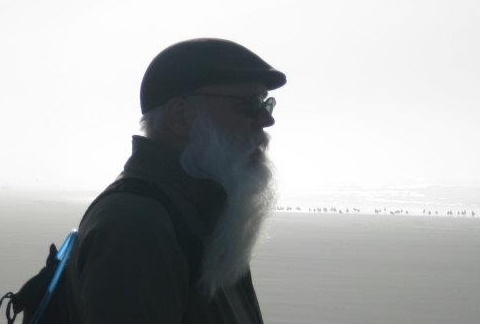 Donors to the John Anderson Memorial Fund:
William and Judy Meeker, Tracy Freidman Stein, Mary Lane Meryman, Alpine Urology, P.C., Dennis Tuite, Karen Swehla, Charlotte Meryman, Steven Wasserman, Gurudarshan Khalsa, Mindy and Barry Douglas, Robert and Joanne Thoman, Anne Shaw, James and Trudi Diffendaffer, Laure Grinnell, Arunima Orr
Obituary in the Nashville Tennessean, John Latimer Anderson, MD
Age 62, formerly of Brentwood, TN, passed away on September 29, 2013 at his home in Arcata, CA. He is survived by his loving wife of 38 years, Mindy Louise Menz Anderson; his children, Kirsten Louise and husband Grant Diffendaffer, John Eric, Jessica Lane, Mary Beth, and Marti Ann; his siblings Jim, David and wife Jeanne; sister, Beth Pepper and husband John; and Cragin and wife Kaye. John was preceded in death by his parents, James and Louise Anderson.
John was born in Miami, Florida on October 18, 1950. He received his Bachelor's Degree from San Francisco State University, his Doctor of Medicine degree from St. George's University School of Medicine, and completed his residency in internal medicine at East Tennessee State University. John was an emergency physician at Southern Hills Hospital for 8 years, then Baptist Hospital for 10 years until his retirement in 2003. He loved the outdoors and enjoyed hiking, bicycling, kayaking, camping, sailing, rafting or any activity that allowed him to spend time in nature with family and friends.